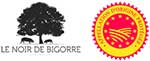 Because these two hams are exceptional creations, Salaisons de l'Adour is committed.
FOR THE TERRITORY
→ carrying on the history and the breeding of pigs in the South West of France,
→ making sure our partners can make a living on their jobs,
→ getting the guarantee from the collective of farmers of a natural and responsible farming,
→ protecting the animals and letting them grow at their own pace,
→ feeding pigs in a healthy way, with cereals with no GMO, grass, fruits, acorns, chestnuts…
FOR QUALITY
→ favoring the best hams (size, fat, colour, cutting…). Only 10 hams are selected

The Noir de Bigorre and Jambon de Bayonne are cured with natural, mineral salt from Salies de Bearn for a soft salty taste.
They mature in the open air in our natural cellars at the foothill of the Pyrenees : 36 months for the Noir de Bigorre PDO and 20months for the Jambon de Bayonne GPI.
Each ham is unique and age at its own pace to become a « grand cru » with delicacy, softness and personality.

France also has high-quality hams
Want to know more ?
CONTACT US
+33 5 62 45 60 33